Secret Service - The Undercover Customer
An Honest Review
Businesses want good press, so journalists often get special treatment. It isn't uncommon, for example, to be given a gift at a car launch. Of course, we would never be infl uenced by these gestures (even if we do take full advantage of them). It's just a perk of a very averagely paid job. But what has that got to do with this feature? Well, everything really. When reporting on a service or business we wanta genuine customer experience, so we can give you, the reader, an honest review.
So in the name of editorial integrity, we've gone undercover.This series of features will see SUV visit some of the biggest names in the industry, all in the name of investigative journalism. It is time to dust off that Vivienne Westwood pullover, slip on the ThomBrowne loafers, and pose as a self-respecting entrepreneur in the market for an exclusively enhanced SUV.
Our first stop is Revere London...
Making an appointment
This process already sets Revere apart from their competition. You can't just walk in off the street, you have to make an appointment, and there's logic behind this personal approach.
Their business is structured around personalising your vehicle and Revere believe it's vital to connect with the customers to achieve this. I booked an appointment to meet up with Adrian Ripp, whom it turns out is the managing director...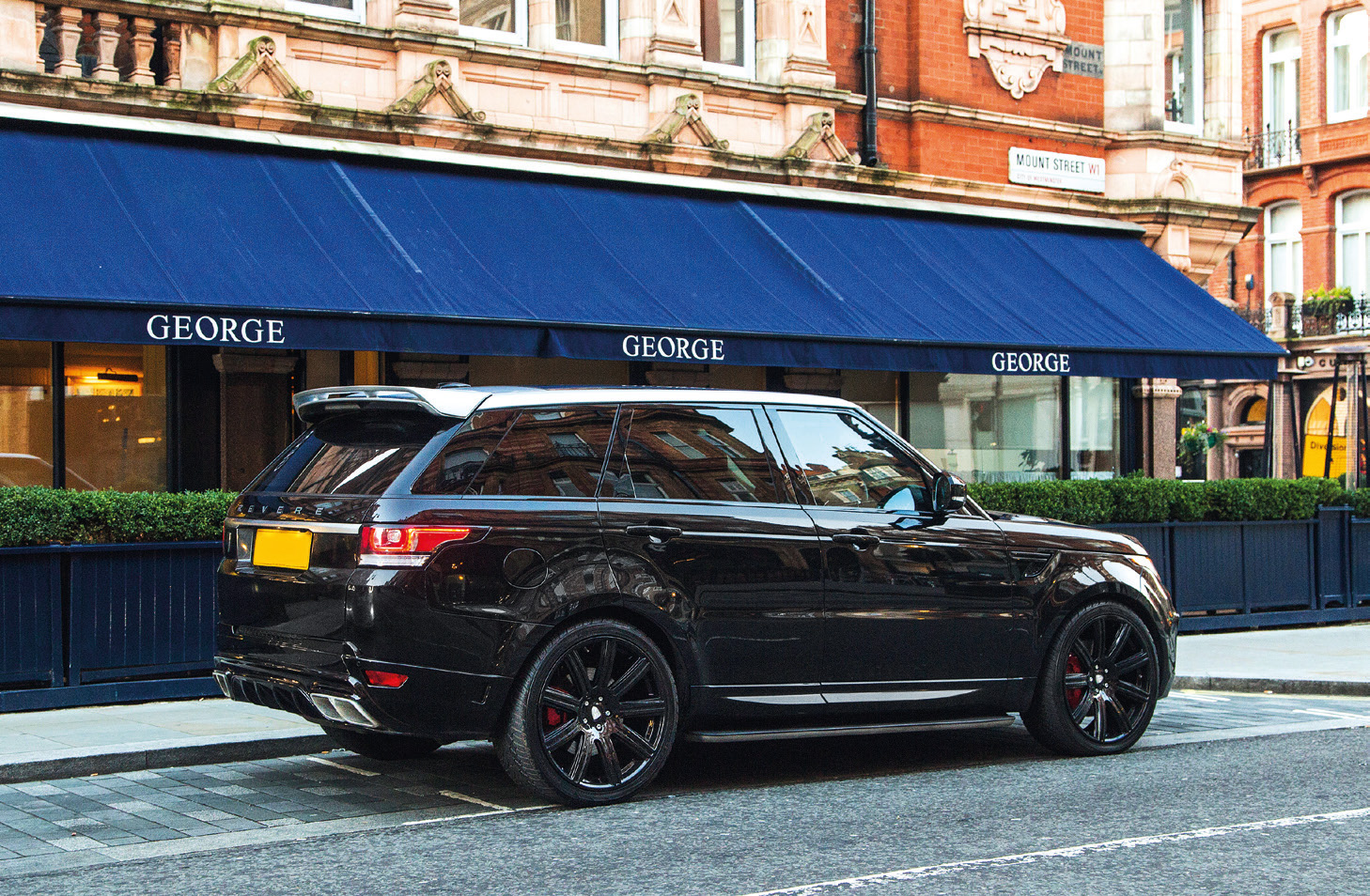 The location was a prestigious private members' club in Mayfair, London. I could instantly tell this wasn't like any other service I'd encountered before. Adrian was professional and friendly and I instantly felt at ease in his company. It didn't feel like a consultation, rather an informative chat.
Adrian placed a stainless-steel attache case on the table and promptly flicked the latches open. It was packed with samples of leather, finished trim designs and materials. This automatically got the creative juices flowing.
It felt like I was commissioning a personalised yacht rather than developing a plan for a personalised vehicle conversion. Revere has become a brand that you aspire to have your car converted with.
They build vehicles for celebrities and high-net-worth individuals who want something subtly different. If you lived in Bishops Avenue, London, where every house is over eight figures, you wouldn't want the same factory spec'd car as your neighbour, would you?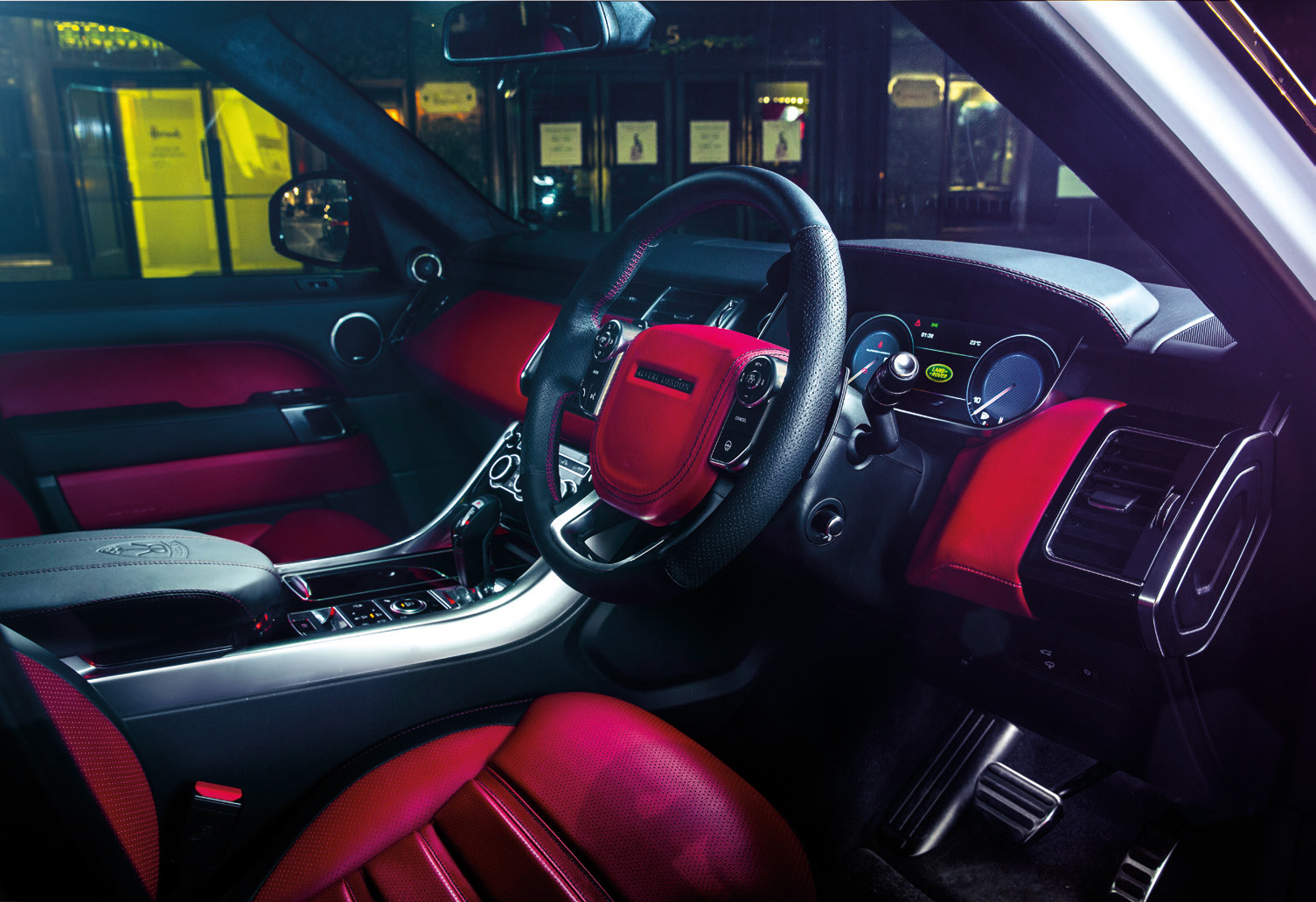 Each vehicle is built to the exact requirement of the customer, from the colour of the leather and thread, to the style of stitch and hues of the seatbelts.
Revere can replicate any style, and even match the vehicle to something as personal as your wife's favourite handbag. They only use the best Italian automotive leathers. Even the floors mats, or as Adrian calls them, 'over-floor carpets', are special. They're made from lamb's wool so thick you can lose your hand in them.
Revere has become a brand that you aspire to have your car converted with.
It's clear that Revere believe in using the best materials, and still to this date, use British manufacturing techniques, most of which are done by hand. This becomes apparent when you see components like their stainless-steel front grilles. Each grille is hand woven, welded and then electro-polished, to keep their lustre for years to come.
Revere London was formed in 2006 and launched at the Mayfair Land Rover showroom with celebrities and elite figures from the automotive sector. After becoming one of the leaders in their field they joined forces with another luxury-car sales brand in 2012 and opened a stunning showroom on Park Lane.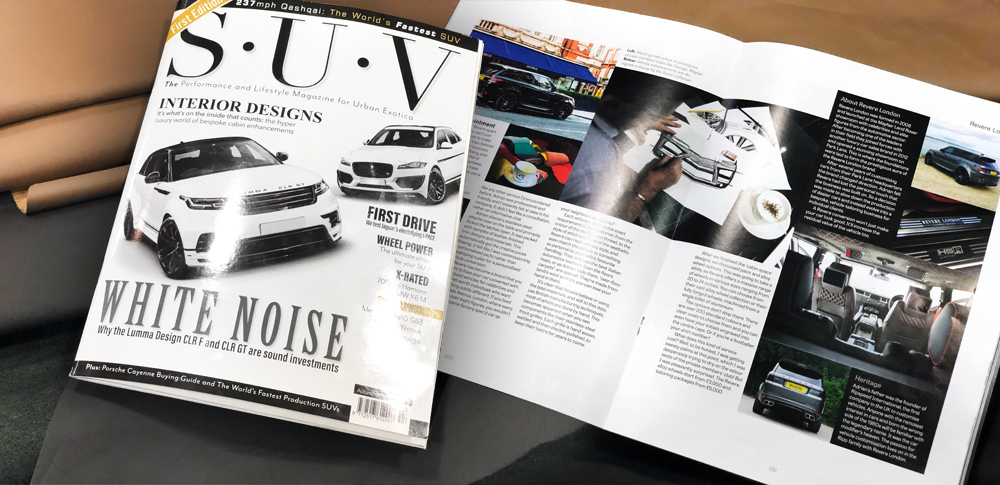 This is where the foundations were laid to form the prestigious aura of the Revere London brand. After several years of customising cars from their Park Lane headquarters the brand changed direction. Adrian felt Revere had lost the personal touch that the business was built on. So a decision was made to slow down the production of dealer cars and instead evolve into a bespoke, vehicle-tailoring business for individual clients.
A Revere conversion won't just make your car look good. It will increase the residual value of the vehicle too.
After we finalised the 'cabin space' designs, we discussed paint and alloy wheel options. This was going to take a while, as Revere offers a massive range of wheels in various sizes ranging from 20 to 24 inches. You can choose from their cast alloy wheel collection or their fully forged wheels, machined from a single billet of aluminium.
The options don't stop there.
There are over 200 standard colours and clear coats to choose from and you can even have your initials engraved into the centre caps. Or if you're a footballer, your shirt number! What does this kind of service cost? Well, to be honest, I was getting sweaty palms at this point, which I was desperately trying to dry on the velour seats of the private members' club! But I was pleasantly surprised. The Revere alloy wheels start from £3,000 and tailoring packages from £5,000.
HERITAGE
Adrian's father was the founder of Ripspeed International, the first company in the UK to customise vehicles. Anyone with the remotest interest in cars and born the wrong side of the 1980s will be familiar with the legendary name. It was the car modifier's heaven. The passion for vehicle customisation lives on in the Ripp family with Revere London.
No such thing as bad press
Revere London's 'cheater' stunt was one of the biggest viral videos of the decade. This is how it happened... I had the idea in my head for around three years," says Adrian. Then on a very random Tuesday morning, I had a brainwave and grabbed a can of plastic spray film, intended for temporary colour changes, and graffitied the side of one of our brand new Range Rovers.
"I drove into central London, sinking lower and lower into the driver's seat - as you can imagine I was getting a few looks! I parked it outside Harrods and let the growing crowd and social media do its thing. I never imagined the storm it would create."
The story made just about every newspaper and website in the UK. Adrian had put his brand in front of millions of people without them realising it and all for the cost of a can of plastic spray paint. Genius? We think so, as it had us fooled for a while too!
Conclusion
I'd only heard good things about Revere London, so I was eager to see what all the fuss was about. And it didn't take long to find the answer. Within minutes of sitting down with Adrian it became clear that his knowledge of the automotive market stretched way beyond the roots of Revere, his knowhow comes from his vast experience in the automotive aftermarket sector.
This legacy is what makes Revere stand out. There's been a massive influx of companies offering Revere-type services in the last few years, but the difference is that Revere London are the best. They only use the highest grade materials that are applied by the finest craftsman in the UK. I was so intoxicated by the whole experience that I almost put down a deposit on a Revere HSR Styling package for a Range Rover. The problem is I don't own a Range Rover! But if I did, I'd take it to Revere London.